Instructor
Sensei Lothar Lee (5th Dan)
Sensei Lothar Lee has spent most of his life training in karate.
He was born in Germany, where he was first introduced to Shotokan karate at the Japan Karate Association.
He commenced his training in 1964 at the JKA under Hideo Ochi Sensei, Chief Instructor of JKA Germany.
Later, in 1974 he traveled to Japan, where he spent three years training under Masatoshi Nakayama Sensei, the late Headmaster of the Japan Karate Association, and other JKA instructors including Masahiko Tanaka Sensei and Ikuro Sugiyama Sensei, who later became something of a mentor for Sensei Lee. In due course, he received his fifth Dan (5th degree Black Belt), and went on to complete the JKA instructors' course.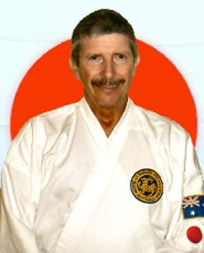 He was eventually appointed by Nakayama Sensei and Mr. Ito, the then General Secretary of the JKA, as official representative of the JKA in New South Wales, Australia, and as JKA Chief Instructor for the state. Sensei Lee has recently followed his mentor, Sugiyama Sensei, and become affiliated with the Shotokan Karate-do International Federation (SKIF), Japan, and its Australian chapter, Shotokan Karate International Australia (SKIA).
Sensei Lee currently heads the North Queensland SKIA, and is presently engaged in promoting and teaching Shotokan Karate in the North Queensland region.
Sensei Lee has always been immersed in the pursuit of physical improvement and health, and helps his students with finding alternative remedies and ways to better health. Most recently he has been researching and promoting Xango - juice of the mangosteen fruit, which is being acclaimed worldwide for its restorative and regenerative properties. He has gone as far as taking on a distributorship (Lic.: 71737352), helping many people in the Townsville community on the road to better health. For more about Sensei Lee, his training and his interests, click here to visit his personal webpage (opens in a new window).

Top